selling JE goods;
concert goods;
#
arashi ONE pamphlet USD 20
#
NEWS Pasific 2007 pamphlet USD 20
#
NEWS YamaPi UCHIWA pasific USD 6
V6 goods;
# kage hinata pamhplet {this pamhplet is for kage hinata's guest only} -right one USD 20
# kage hinata movie book pamphlet - left one USD 12
# MORITA GO IZO pamphlet - USD 20
movie goods CHIRASHI!
# toho cinema magazine cover OKADA USD5/each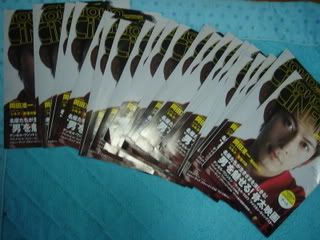 note;
if buy arashi pamhplet, gets matsujun new movie chirashi "the hidden fortress"
if buy news pamphlet, gets yamap new movie chirashi "kurosagi"
if buy kage hinata pamphlet, gets okada new movie chirashi "kage hinata ni saku"
request = welcome;
open request
# yamap kurosagi movie pamphlet
# matsujun new movie pamhplet
this goods i want to sell REAL FAN, coz i dont want to sell with who wants to sell again with expensive price!!
Current Mood:
busy
Current Music: ketsumeishi - deai kakera